About VIP Fundraising
VIP Fundraising is your local Butter Braid® Pastry dealer. We work with schools and other non-profit groups across Kentucky and Southern Indiana. Our freezer storage and office are conveniently located in Muldraugh, Kentucky (close to Fort Knox). In 2005, Don & Paula Fowler were both high school teachers. Like many of you, we spent much time over the years working on fundraisers as parents, teachers, volunteers, coaches and club sponsors. We raised funds for schools, churches, and other non-profit organizations. We had seen and tried just about every fundraiser imaginable.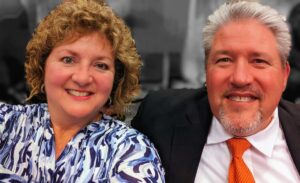 We were looking for something different to sell for our church youth group's mission trip. At teacher conferences in other states, we heard people raving about a product called Butter Braid frozen pastries. It seemed everyone was talking about this delicious product. We were disappointed to learn that there was not a Butter Braid dealer in our area.
We were given permission to run one fundraiser for our church youth group. We were pleasantly surprised at how easy it was. From start to finish, it lasted less than 30 days, and we had the money deposited in our church's account. Then, a strange thing happened. Customers began calling and asking for more Butter Braid Pastries. They kept calling, asking about our next fundraiser. In years of fundraising, this had never happened before. Imagine that - a fundraiser where the customers not only appreciated the product but wanted to buy more!
However, we learned that we could not run more fundraisers unless we became a Butter Braid Pastry dealer. We went to West Bend, Iowa to meet the makers of Butter Braid Pastries (Country Maid, Inc.) and were impressed with what we discovered. Although they started with humble beginnings, the company had grown to a modern production facility making thousands of frozen pastries a day. Each pastry was still braided by hand. The facility was spotless with the highest quality control imaginable. The best part was the quality of the people.
Thus, began VIP Fundraising, Inc. Our name came from our mission to help Very Important People (VIPs are students, parents, teachers, coaches, volunteers, etc.) raise money for Very Important Purposes. We want to make you look good and to make this the easiest fundraiser you've ever done. Through word-of-mouth, this quickly grew into a full-time business.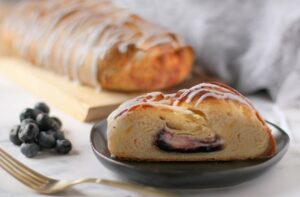 People find that once they run a Butter Braid Fundraiser, they want to do them year after year. In fact, most groups run in the fall (Back to School, Thanksgiving or Christmas) and again in the spring (Valentine's Day, Easter or Mother's Day). They love how easy and profitable it is, and the fact that people are calling back wanting more. Since Butter Braid frozen pastries are only available through fundraisers, this keeps the demand high.
Our flavors are Apple, Blueberry & Cream Cheese, Bavarian Crème (the only one with chocolate icing), Cinnamon, and Strawberry & Cream Cheese. Our 6th flavor is Four Cheese and Herb (with Marinara Sauce) and can be served as an appetizer or side dish. They sell for $16 each. You make $5 for each item you sell. There is no minimum order and no delivery charge. Since it is a frozen product, people tend to buy several to keep on hand for family get-togethers and special occasions, and your profits add up quickly.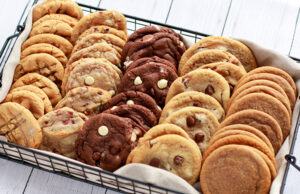 VIP Fundraising also carries a delicious pre-portioned cookie dough product called Wooden Spoon® Cookie Dough. It is made by the same folks who make the Butter Braid Pastries. The price and profit are the same ($16 price / $5 profit). The flavors are Classic Chocolate Chip, Cranberry Oatmeal Medley, Snickerdoodle, Triple Chocolate, Sweet Macadamia Nut, and Peanut Butter Perfection. Besides the fact they taste great, we like that they are only about an inch high and take up very little space in the freezer. In fact, we can get about 5 packages in the space we used to use for one tub of cookie dough. This also makes it much easier to handle at delivery. When ready to bake, the choice is yours - bake 2 or all 40. Just break and bake! It is best to run a Wooden Spoon Cookie Dough fundraiser as a separate fundraiser but it is possible to run at the same time as a Butter Braid Fundraiser. With most competing cookie dough fundraising products selling for $20 or more, this is a great value.
When you are ready to start your fundraiser, we will customize and print your order forms for you in less than 24 hours. We will mail or bring your customized forms to you and, if you would like, we can even bake samples for your group to taste. A fundraiser typically runs for two weeks and you deposit the money right into your account. You will call or email us the totals, and we will deliver two weeks after that. You don't have to write us a check until we deliver. When we deliver, we help you sort the product which typically takes 30 to 60 minutes. Or, if you prefer, we can pre-sort your order so there is no waiting. Since we keep the product frozen below zero and deliver using our high tech freezer blanket, you will have 3 - 4 hours after delivery to get the products delivered or back in the freezer. There is no minimum order and no delivery charge. You will not have any leftover inventory to worry about.